How to Make Perfect Sourdough bread
Sourdough bread. Tangy, chewy sourdough bread is a lot easier to make than you think. Plus, it's a great project when you have time on your hands…and no yeast handy. Autolyse: In a large mixing bowl, stir together flours and water with your hands until well combined.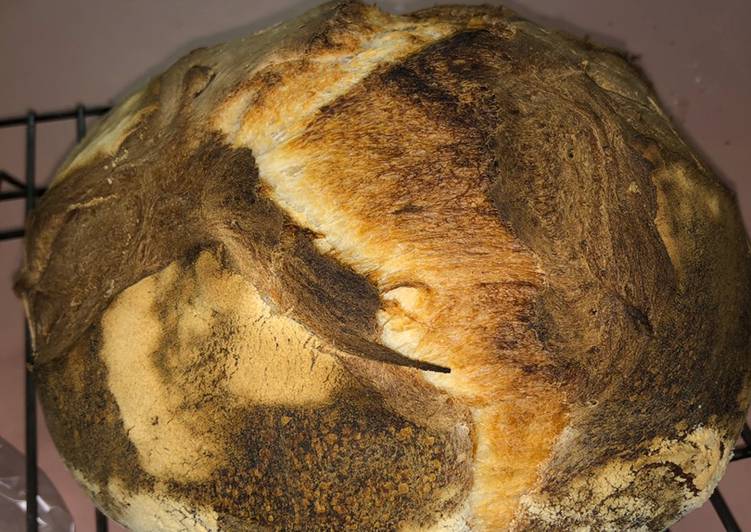 The lactic acid produced by the lactobacilli gives it a more sour taste and improved keeping qualities. Do not store it in the refrigerator. Instead, keep it covered with a towel or in a zipped plastic bag someplace that is relatively cool. You can cook Sourdough bread using 4 ingredients and 13 steps. Here is how you achieve that.
Ingredients of Sourdough bread
You need 110 g of starter.
Prepare 415 g of bottled water.
Prepare 646 g of bread flour.
You need 12 g of salt.
A bread box also works well. If you want to freeze the bread, be sure to let the bread cool completely before freezing!. Sourdough Bread This no-knead bread is no fuss to make and delicious, too, which I first learned when I was the cook at a remote fishing camp. It has a crisp crust and distinctive sourdough flavor from the "starter" yeast mixture you stir up in advance.
Sourdough bread instructions
Combine water and flour.
Form into ball and let sit covered in bowl for 1 hr to let gluten start activating (Autolyse).
Now add starter and then salt and use hands to combine.
Now you should knead dough for around 15mins until you can pull dough and it doesn't break and you can see some light through it (this is the window pane test).
Form into ball and and put in bowl (no flour or oil) - cover with damo towel and rest for 4 hrs.
Now you can shape ball by pulling sides over and over until nice and tight on one side (this is the envelope fold).
Lightly rice flour cloth in bowl and rest upside down for another 30mins covered with towel (or for stronger sour dough taste leave for at least 8 hours covered in fridge).
Preheat oven to 290c with hot skillet and baking dish on bottom.
Place ball on skillet and score with big X across.
Place in oven for 35mins and turn down to 230c and put boiling water in baking tray.
Turn off oven and leave in for another 15mins (or less if you don't want really brown crust).
Place on cooling tray for at least 1 hour.
Eat and enjoy.
Spray the loaves with lukewarm water and dust generously with flour. Make two fairly deep diagonal slashes in each; a serrated bread knife, wielded firmly, works well here. Remove it from the oven, and cool on a rack. Add milk and softened butter or margarine. Sourdough bread is an old favorite that has recently risen in popularity.