Recipe: Appetizing TIM's Cinnamon Walnut Banana Bread
TIM's Cinnamon Walnut Banana Bread. This Cinnamon Banana Nut Bread recipe is easy to make and creates a moist and delicious loaf that's perfect for breakfast or dessert. walnuts - I love nuts in my banana bread and walnuts are definitely my favorite. They pair beautifully with bananas and also add a nice little crunch with every bite. Walnuts star in this easy-to-make Banana Walnut Bread recipe from Food Network Kitchen.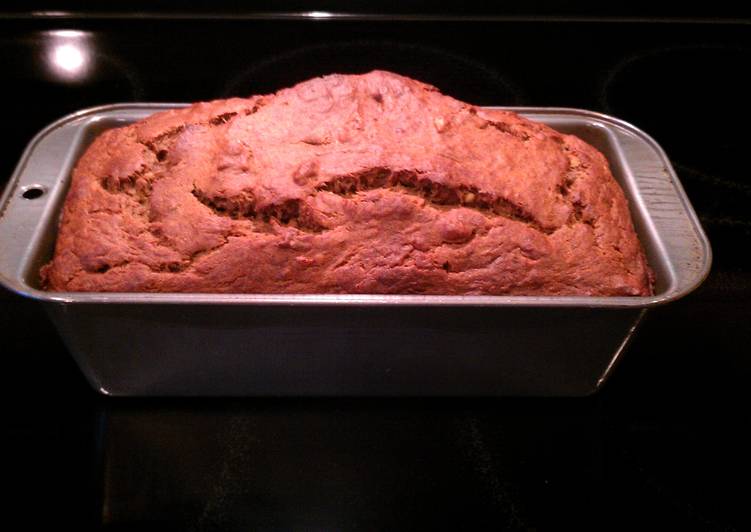 But anyway, back to this banana bread. I added an additional banana and a bit of brown sugar to add more moisture to the bread. The cinnamon swirl is just a mix of cinnamon and sugar layered with the banana bread mixture. You can cook TIM's Cinnamon Walnut Banana Bread using 11 ingredients and 3 steps. Here is how you cook that.
Ingredients of TIM's Cinnamon Walnut Banana Bread
It's 3 of Very Ripe Bananas.
Prepare 1/3 cup of Butter.
You need 1/2 cup of Dark Brown Sugar.
Prepare 2 of Eggs.
You need 1/2 tsp of Baking Soda.
It's 1/2 tsp of Salt.
It's 3 tsp of Ground Cinnimon.
You need 1 cup of Chopped Walnuts.
Prepare 1 tsp of Vanilla Extract.
Prepare 1 3/4 cup of Flower.
You need 2 tsp of Baking Powder.
For the swirl, you can either make one thicker layer or two slightly thinner. Cinnamon Crumble Banana Bread-A delicious and moist banana bread that is topped off with a cinnamon crumble for the ultimate treat. This banana bread recipe is my favorite and it's also a crowd pleaser. The flavors work well together and the bread pairs up well with a cup of coffee or tea.
TIM's Cinnamon Walnut Banana Bread step by step
Mix all ingredients together in a large bowl.
Pour into greesed bread pan.
Bake at 350 for 1 hour.
This Cinnamon Swirled Banana Bread is full of buttery cinnamon sugar throughout the moistest banana bread that's out of this world delicious! Please tell me you have some ripe bananas on your counter?! I sure hope so because this banana bread is the best and it's calling your name! This easy banana cinnamon bread recipe is so moist with a ribbon of buttery cinnamon swirled throughout. It's a banana bread everyone will love!