Recipe: Yummy Easy Fruit Salad
Easy Fruit Salad. Leave us a comment down below to let us know how you liked it. Easy Fruit Salad is one of my go-to recipes because it's quick and easy to throw together, and a great way to get a serving of fresh fruit. I like to make this salad with pineapple, berries, kiwi, and grapes.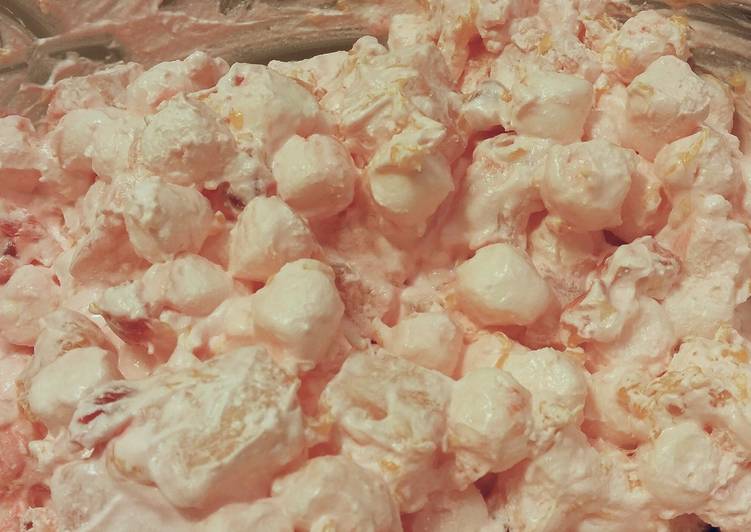 This Easy Fruit Salad Recipe is made with fresh, ripe fruit and drizzled with a light orange juice dressing. On a hot, soaring summer day, an easy to make fruit salad is just what you need to beat the heat. Explore this article to get your hands on easy fruit salad recipes. You can cook Easy Fruit Salad using 7 ingredients and 5 steps. Here is how you cook that.
Ingredients of Easy Fruit Salad
You need of Fruit.
Prepare 1 packages of Marshmallows.
Prepare of Maraschino Cherries.
It's 2 can of Mandarin Oranges.
Prepare 1 can of Pineapple chunks.
Prepare 1 packages of Cool Whip.
You need 2 tbsp of Sour Cream.
This EASY fruit salad recipe is the BEST! Packed with cantaloupe, kiwis, strawberries, pineapple, grapes, mango, and blueberries this is a great dish to. A collection of easy fruit salad recipes and some fruit salad dressing recipes that are a favorite at our house. Please share your favorite fruit salad recipe below.
Easy Fruit Salad instructions
Drain all fruits (save 2 tablespoons of cherry juice).
Mix Sour cream and cool whip together in bowl you will be using to serve the fruit salad..
Next add the 2 tablespoons of cherry juice you saved, stir and mix well..
Then add all fruit ingredients and stir gently..
That's it! It is devine to serve after large meals, especially on holidays..
For a savory fruit salad, add some crispy prosciutto, bitter radicchio and salty Parmesan to the mix. A fresh fruit salad that makes the perfect side dish to any meal! Colorful, healthy, delicious, and filled with all your favorite. Fruit salads are a great way to satisfy your kids. This easy fruit salad recipe is so simple to make, and you can use any fruits you like (or that are in season!) It's super versatile: perfect for a brunch side-dish, on-the-go snack, or healthy dessert.